Events
Current/Recent Events

Coast to Coast: Reflections from Al Andalus to Los Angeles
In-person Music Event
Thursday, March 24, 2022, 5.30-7.00 pm
SDSU Campus - J. Dayton Smith Recital Hall
Syrian American Rapper and Poet Omar Offendum & Palestinian American Multi-Instrumentalist maestro Ronnie Malley weave stories of the past, present and future as they trace the influence of Al Andalus and Arabic-speaking peoples on music and culture from New York City's Little Syria to the birth of California Surf Rock.
Co-sponsored with CAL, School of Music and Dance, Students for Justice in Palestine, and Associated Students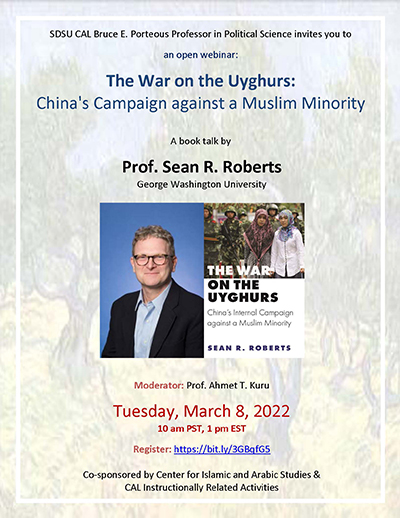 The War on the Uyghurs: China's Internal Campaign against a Muslim Minority
Open Webinar
Tuesday, March 8, 2022, 10 a.m. (PST)
Watch the 3/8 event video.
An open webinar by Prof. Sean R. Roberts on his recent book "The War on the Uyghurs: China's Internal Campaign against a Muslim Minority" which analyzes how the Chinese government's settler colonialism has tried to eradicate 12 million Uyghurs' religion, culture, and language.
Prof. Ahmet Kuru will moderate the Q & A.
Co-sponsored by Bruce E. Porteous Endowed Professor in Political Science and CAL Instructionally Related Activities.



In Memoriam: Celebrating the Life of Dr. Khaleel Mohammed
Wednesday February 2, 2022 at 7pm
Watch the 2/2 video

The Center for Islamic & Arabic Studies and the Department for the Study of Religion at SDSU invite you to join us for this celebration of Dr. Khaleel Mohammed, Professor of Islamic Studies.
Dr. Mohammed, born in Guyana, studied Islamic law at Imam Muhammad ibn Saud Islamic University in Riyadh, Saudi Arabia. After completing a Master's degree in Judaism and Islam at Concordia University, Montreal, he obtained a Ph.D. in Islamic law at McGill University. He then moved to Brandeis University where he completed a two-year Kraft-Hiatt postdoctoral fellowship about the imagery of the Jew in Hadith literature. Dr. Mohammed came to SDSU in 2003 to teach courses related to Islam, Quran, World Religions, and the Abrahamic faiths.
He also served as Director of the Center for Islamic and Arabic Studies at SDSU and was associate faculty in SDSU's LGBTQ+ Studies program. His research interests included Islamic and Arabic studies, Islamic law (classical and modern), comparative religion, Jewish/Christian/Islamic encounter, Qur'anic exegesis (classical and modern), hadith, gender/sex issues and sexuality in Islam, terrorism, antisemitism in Islam, Arab-Israeli relations, and reform in Islam. He was a strong proponent of interfaith marriage between Muslim women and non-Muslim men, without the traditionally required conversion of the non-Muslim spouse, and was a registered marriage-officiant.
Khaleel considered working at SDSU to be one of the greatest accomplishments of his career. SDSU was his pride and joy, and he loved his students.
Donate to Professor Khaleel Mohammed Scholarship (for students pursuing a degree in the Study of Religion OR Islamic and Arabic Studies)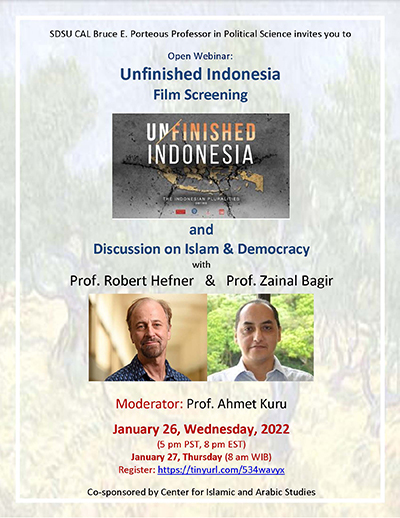 Unfinished Indonesia: Film Screening and Discussion on Islam & Democracy with Profs. Robert Hefner & Zainal Bagir
Open Webinar
Wednesday, Jan 26, 2022, 5 p.m. (PST)
Watch the 1/26 event video
"Unfinished Indonesia" (46 min.) is part of a film series, "Indonesian Pluralities," co-produced by Prof. Robert Hefner & Prof. Zainal Bagir. It analyses Islam & democracy in Indonesia, the world's largest Muslim-majority country. This webinar will start with Prof. Hefner, continue with film screening, and end with Prof. Bagir.
The audience will be able to ask questions.
The discussion will be moderated by Prof. Ahmet Kuru.
Co-sponsored by Bruce E. Porteous Endowed Professor in Political Science.
Past Events